Certificate Program in Hospital Management (CPHM)
This self-paced certificate course will provide you a comprehensive training on the processes, functioning, and management of different departments in hospitals and healthcare units. This course will also train you for the entry-level job positions in healthcare units (Hospital Administrator, Hospital Associate etc.)

  4.2 (157 Ratings)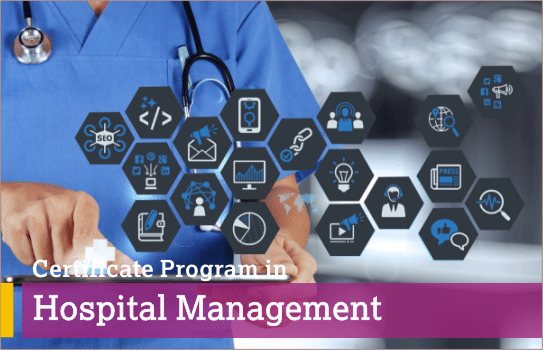 Enroll & convert your CV into a Website of worth Rs. 15000 for Free. 
About the Course
As healthcare sector is one of the most booming sectors in the perspective of globalization, the demand of hospital administrator has increased tremendously. According to a recent survey in US "Health Administration/ Management is among the top ten millennium professions".
The size of the private hospital industry in India is estimated to be around US$25billion as and growing at a CAGR of 20%. According to a Survey "Indian Hospital Services Market Outlook", the country needs to cover the cumulative deficit of around 3 million hospital beds to match up with the global average of 3 beds per 1000 population. Today, an estimated 100,000 people occupy health management positions at numerous organizational levels, from department head to chief executive officer. 
Certificate Program in Hospital Management (CPHM) will provide you a comprehensive training on the processes and functioning of hospitals and healthcare units. This 6 months course will train you on skills required to administer different departments through 9 modules covering 200+ topics. Each module is well explained in detail with the help of illustrations, examples, and flowcharts.
Who Should Enroll?
This course is specially designed for:
Health-science candidates (Pharmacy, Life-Science, Medicine, AYUSH, Dental, Nursing, Physiotherapy, Ph.D. etc.)  who are looking to gain knowledge & start their career in the hospital and healthcare industry.
20% Fee Discount until 20th April
Batch Starts 30th April 2019
Learning: Distance and Online
Duration: 6 Months
Efforts: 60 Hours Approx.
Assessment: Single Exam
Includes: Certificate of Completion
Course Access: Lifetime
International candidate can email at info@physislearningacademy.com to pay the fee in US$. 
Module 1: Introduction to Hospital Management
Module 2: Human Resources Health (HRH) and Leadership
Module 3: Information Technology in Hospitals
Module 4: Hospital Marketing
Module 5: Financial Management
Module 6: Quality Management in Hospitals
Module 7: Public Relations (PR)
Module 8: Maintaining Medical Records
Module 9: Waste Management
Assessment and Evaluation through Exam

Upon enrollment, the course participant will get the course login details or course material before the start of batch via email.

Upon receipt of login details or material, the participant can read or log in to take the course modules anytime and from any device.

After reading all the course modules, the course participant is required to attempt and submit an exam.

Upon evaluation of exam, the certificate of completion will be issued to all the successful participants of the batch.
Learning Objectives
At the end of this course, you should be able to learn about the:
Concepts of hospital industry and its management
Knowledge and skills required to start career in hospital and healthcare industry
Functioning of different departments in hospitals & healthcare units
Activities like Promotion, PR, Information Technology, Finance, Waste Management, Quality Assurance, Human Resource etc.

I am very satisfied with the course content. The modules cover information on all the topics of hospital management. Sanket C
After having searched a lot I applied for this course, this is really a better course. Kamini
A good course for starters in hospital management. Ruchika Sachdeva
Online material is good and real-time examples are as per industry needs. Rudra Rathore
The course covers all the basic understanding and various concepts on hospitals and its departments. Anjali Kumari
Modules cover all aspects in detail. Thank You Physis. Purbali
Is it the entire course fee?
Yes, the fee mentioned above is the entire course fee and there is no additional fee attached to this course. The fee covers the cost of course modules, exam, and certification of completion.
Do I have to take the course on specific timings?
There is no need to take the course module on particular timings. The course is self-paced and you can take the modules anytime.
Can I complete the course early also?
Yes, you can. In order to do so, you have to attempt and submit the online exam for evaluation.
I am a very busy with my professional work/ studies. What if I don't complete the course on time?
In this case, you can extend the timelines to complete the course. You can do so by dropping a request email in advance with your registered email id at info@physislearningacademy.com
What is the difference between Online and Distance learning?
In online mode of learning, you will get login access to read the course modules. You can learn anytime and from any device. In distance mode of learning, you will receive a printed/ hard copy of course material at your corresponding address via post. So, you can choose any mode of learning as per your convenience.
How can I enroll and pay the fee?