Certificate Program in Clinical Data Management (CPCDM)
This self-paced certificate course will provide you a comprehensive training on the concepts & processes of clinical data management (CDM) along with the application of GCP guidelines. This course will also train you for the entry-level job positions in CDM domain (Clinical Data Coordinator, Data Validation Executive)

  4.4 (486 Ratings)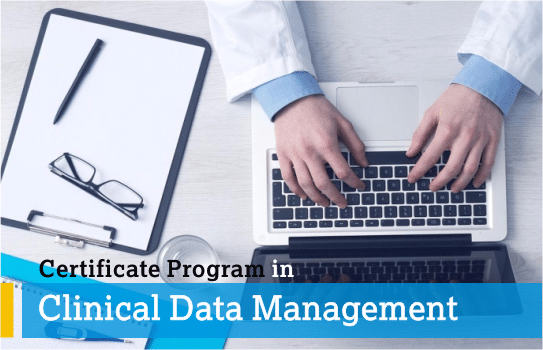 Enroll & convert your CV into a Website of worth Rs. 15000 for Free. 
About the Course
Clinical Data Management is an integral part of the clinical trial process to transform raw data into consistent, accurate, reliable, meaningful trial output in full compliance with regulatory guidelines. The global market size of the segment was USD 1.37 billion in 2015. Being one of advanced IT infrastructure, CDM is one of the fastest and most profitable segments in India. The current size of the market is considered to be >USD 60 million with a continuing growth rate of over 50%. Apart from Sponsor Companies, others have also extended themselves into Clinical Data Management activities which include Contract Research Organizations (CROs), IT companies, Hospitals etc. Currently, there are over 150 organizations involved in CDM services.
Certificate Program in Clinical Data Management (CPCDM) will provide you a comprehensive training on scientific, practical, ethical and technical concepts of clinical data management. This 6 months course covers all the essential aspects and its applications in 11 modules covering 200+ topics. Each module is well explained in detail with the help of illustrations, examples, and flowcharts.
Who Should Enroll?
This course is specially designed for:
Health-science candidates (Pharmacy, Life-Science, Medicine, AYUSH, Dental, Nursing, Physiotherapy, Ph.D. etc.)  who are looking to gain knowledge & start their career in the clinical data management domain.
Fresher and experienced clinical research personnel.
20% Fee Discount until 20th April
Batch Starts 30th April 2019
Learning: Distance and Online
Duration: 6 Months
Efforts: 60 Hours Approx.
Assessment: Single Exam
Includes: Certificate of Completion
Course Access: Lifetime
International candidate can email at info@physislearningacademy.com to pay the fee in US$. 
Module 1: Introduction to Clinical Research
Module 2: CDM and Clinical Information Flow
Module 3: Roles & Responsibilities of CDM Personnel
Module 4: Guidelines Associated with CDM
Module 5: Data Management Plan
Module 7: Data Entry, Collection, Cleaning and Validation
Module 8: Study Setup & Database Designing
Module 9: Laboratory Data & AE Management
Module 10: Report Creation & Data Closure
Module 11: Data Archiving, Privacy & Security
Assessment and Evaluation through Exam

Upon enrollment, the course participant will get the course login details or course material before the start of batch via email.

Upon receipt of login details or material, the participant can read or log in to take the course modules anytime and from any device.

After reading all the course modules, the course participant is required to attempt and submit an exam.

Upon evaluation of exam, the certificate of completion will be issued to all the successful participants of the batch.
Learning Objectives
At the end of this course, you should be able to learn about the:
Concepts and processes involved in CDM
Knowledge and skills required to start career in CDM domain
Guidelines associated with CDM
Train on various aspects of CDM like CRF Designing, Data entry, Data Collection, AE Management, Report Creation etc.
Roles and responsibilities of CDM personnel

Maximum coverage by the trainers in creating the course curriculum and content for clinical data management. Latika Srivastava
Overall the course is very good. Shrsti Joshi
I took the course just to understand the basics and it provided me with innovative concepts along with the basic concepts of clinical data management. Mrigank Pant
The course flow is good and covers all the necessary topics on the basics of Clinical Data Management. Majul Gautam
It was to the point and applicable in my current profile. Shall surely recommend my colleagues and friends. Tushar Meena
All new concepts pertaining to industry and competition are included. Aditya Bansal
Is it the entire course fee?
Yes, the fee mentioned above is the entire course fee and there is no additional fee attached to this course. The fee covers the cost of course modules, exam, and certification of completion.
Do I have to take the course on specific timings?
There is no need to take the course module on particular timings. The course is self-paced and you can take the modules anytime.
Can I complete the course early also?
Yes, you can. In order to do so, you have to attempt and submit the online exam for evaluation.
I am a very busy with my professional work/ studies. What if I don't complete the course on time?
In this case, you can extend the timelines to complete the course. You can do so by dropping a request email in advance with your registered email id at info@physislearningacademy.com
What is the difference between Online and Distance learning?
In online mode of learning, you will get login access to read the course modules. You can learn anytime and from any device. In distance mode of learning, you will receive a printed/ hard copy of course material at your corresponding address via post. So, you can choose any mode of learning as per your convenience.
How can I enroll and pay the fee?