Dual Certification in Clinical Research & Pharmacovigilance (DCCRPV)
DCCRPV is a globally valid certificate course which will provide you a comprehensive training on the processes and global guidelines of Clinical Research and Pharmacovigilance. This course will also train you for the entry-level job positions in clinical research & Pharmacovigilance (Clinical Research Coordinator, Trial Assistant, Drug Safety Associate, Pharmacovigilance Associate etc.)

  4.5 (312 Ratings)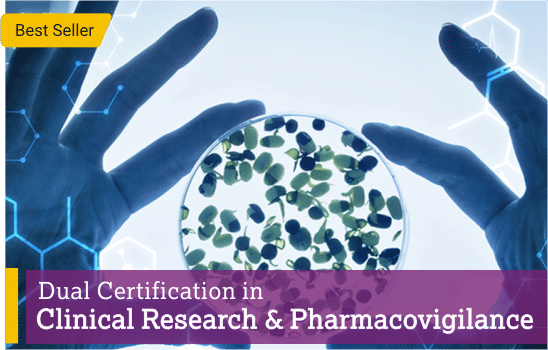 About the Course
With 250000+ clinical trials already registered at clinicaltrials.gov portal, the present worth of global clinical research industry is estimated to be more than $40B. ICH-GCP and regulatory guidelines provide a framework of principles which aims to ensure the safety of study subjects along with integrity and validity of data produced during trials.
The worth of global Pharmacovigilance market is USD 2200 million and is estimated to reach USD 5800 million by 2022. Due to increase in the incidents of adverse drug reactions, the market is expected to expand at CAGR of 15.8%.
Dual Certification in Clinical Research and Pharmacovigilance (DCCRPV) will provide you a comprehensive training on scientific, practical, ethical and technical concepts of the clinical trial & pharmacovigilance along with the applicable regulatory guidelines. This 6 months course covers the essential knowledge in 24-course modules. Each module is well explained with the help of illustrations, examples, & flowcharts.
Who Should Enroll?
This course is specially designed for:
Health-science candidates (Pharmacy, Life-Science, Medicine, AYUSH, Dental, Nursing, Physiotherapy, Ph.D. etc.)  who are looking to gain knowledge & start their career in the clinical research or PV industry.
Fresher and experienced Clinical Research and Pharmacovigilance personnel.
30% Fee Discount until 25th Mar
Batch Starts 31st March 2019
Learning: Distance & Online
Duration: 6 Months
Efforts: 100 Hours Approx.
Assessment: Single Exam
Includes: Certificate of Completion
Course Access: Lifetime
International course participants can pay the fee in USD. Email at info@physislearningacademy.com
Module 1: Introduction to Clinical Research
Module 2: Evolution of Ethics, Regulations & ICH-GCP
Module 3: Roles and Responsibilities of CR Personnel
Module 4: Clinical Study Process
Module 5: Institutional Review Board (IRB)
Module 6: Informed Consent Process
Module 7: Study Subject Recruitment & Retention
Module 8: Safety Reporting & Adverse Event Management
Module 9: Research Protocol
Module 10: Essential Research Documents
Module 11: Maintenance of Source Documents
Module 13: Research Misconduct
Module 1: Pharmacovigilance Terminology
Module 2: Introduction to Pharmacovigilance
Module 3: Global Perspective of PV and Adverse Drug Reaction (ADR) Reporting
Module 4: Guidelines & Standards Governing PV
Module 5: Global Adverse Events (AE) Reporting System & Reporting Forms
Module 6: Individual Case Safety Reports (ICSRs)
Module 7: Public Safety Update Reports (PSURs)
Module 8: Signal Detection
Module 9: Medical Dictionary for Drug Regulatory Activities (MedDRA)
Module 10: Expedited Reporting and Requirements
Module 11: Pharmacovigilance Inspections
Assessment and Evaluation through Exam

Upon enrollment, the course participant will get the course login details or course material before the start of batch via email.

Upon receipt of login details or material, the participant can read or log in to take the course modules anytime and from any device.

After reading all the course modules, the course participant is required to attempt and submit an exam.

Upon evaluation of exam, the certificate of completion will be issued to all the successful participants of the batch.
Learning Objectives
At the end of this course, you should be able to learn about the:
Concepts and processes involved in clinical trials and pharmacovigilance
Knowledge& skills required to start your career
Global guidelines and standards governing clinical trials and pharmacovigilance
Hands on training and assessment through exam
Roles and responsibilities of clinical research and pharmacovigilance personnel.

Great course to explore career opportunities in Clinical Research and Pharmacovigilance simultaneously. Aaakansha Gupta
The course contains a vast amount of information on both the topics. Mohit Singla
I would like to thank Physis for providing me career guidance in Clinical Research and Pharmacovigilance. Dr Tushi Sharma
Good course for fresher to start their career in CR and PV. Shivani Vats
Is it the entire course fee?
Yes, the fee mentioned above is the entire course fee and there is no additional fee attached to this course. The fee covers the cost of course modules, exam, and certification of completion.
Do I have to take the course on specific timings?
There is no need to take the course module on particular timings. The course is self-paced and you can take the modules anytime.
Can I complete the course early also?
Yes, you can. In order to do so, you have to attempt and submit the online exam for evaluation.
I am a very busy with my professional work/ studies. What if I don't complete the course on time?
In this case, you can extend the timelines to complete the course. You can do so by dropping a request email in advance with your registered email id at info@physislearningacademy.com
What is the difference between Online and Distance learning?
In online mode of learning, you will get login access to read the course modules. You can learn anytime and from any device. In distance mode of learning, you will receive a printed/ hard copy of course material at your corresponding address via post. So, you can choose any mode of learning as per your convenience.
How can I enroll and pay the fee?