Dual Certification in AYUSH Clinical Research & Hospital Management (DCACRHM)
This self-paced dual certificate course will provide you a comprehensive training on the processes and applicable guidelines of AYUSH Clinical Research and Hospital Management. This course will also train you for the entry-level job positions in clinical research & Hospital Management (Clinical Research Coordinator, Trial Assistant, Hospital Administrator etc.)

  4.6 (356 Ratings)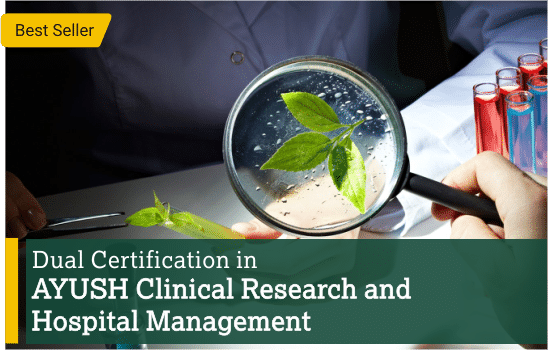 About the Course
With 4500+ clinical trials already registered at AYUSH Research Portal (ayushportal.nic.in), Department of AYUSH has published GCP guidelines to conduct clinical research in AYUSH system. These guidelines provide a framework of principles which aims to ensure the safety of study subjects along with integrity and validity of data produced during AYUSH trials.
The size of the private hospital industry in India is estimated to be around US$25billion as and growing at a CAGR of 20%. According to a Survey "Indian Hospital Services Market Outlook", the country needs to cover the cumulative deficit of around 3 million hospital beds to match up with the global average of 3 beds per 1000 population.
Dual Certification in AYUSH Clinical Research and Hospital Management (DCACRHM) will provide you a comprehensive training on scientific, practical, ethical and technical concepts of AYUSH clinical trials along with functioning of different departments of a hospital. This 6 months course covers all the clinical research concepts and hospital management in 19 modules. Each module is well explained in detail with the help of illustrations, examples, and flowcharts.
Who Should Enroll?
This course is specially designed for:
Students and working professionals from Ayurveda, Yoga, Unani, Siddha and

Homeopathy (AYUSH domain) who are looking to gain knowledge & start their career in the clinical research industry along with hospital management.
30% Fee Discount until 25th Mar
Batch Starts 31st March 2019
Learning: Distance & Online
Duration: 6 Months
Efforts: 100 Hours Approx.
Assessment: Single Exam
Includes: Certificate of Completion
Course Access: Lifetime
International course participants can pay the fee in USD. Email at info@physislearningacademy.com
AYUSH CLINICAL RESEARCH VIDEOS
AYUSH Clinical Research is an emerging field and provides a number of career options apart from conventional ones. A number of news and articles have been published already by Govt. of India and media houses.  The below resource links would help you to understand the potential and role in future of AYUSH medicine.
AYUSH CLINICAL RESEARCH: NEWS, ARTICLES & RESOURCES
Module 1: Introduction to AYUSH
Module 2: Introduction to Clinical Research
Module 3: Ethics in Clinical Research
Module 4: Roles and Responsibilities of CR Personnel
Module 5: Clinical Trial Monitoring
Module 6: Essential Clinical Trial Document
Module 7: Importance of Inform Consent Document
Module 8: Importance of Safety Reporting in CR
Module 9: Recent Trends and Careers in Clinical Research
Module 10: Glossary of Clinical Research
Module 1: Introduction to Hospital Management
Module 2: Human Resources Health (HRH) and Leadership
Module 3: Information Technology in Hospitals
Module 4: Hospital Marketing
Module 5: Financial Management
Module 6: Quality Management in Hospitals
Module 7: Public Relations (PR)
Module 8: Maintaining Medical Records
Module 9: Waste Management
Assessment and Evaluation through Exam

Upon enrollment, the course participant will get the course login details or course material before the start of batch via email.

Upon receipt of login details or material, the participant can read or log in to take the course modules anytime and from any device.

After reading all the course modules, the course participant is required to attempt and submit an exam.

Upon evaluation of exam, the certificate of completion will be issued to all the successful participants of the batch.
Learning Objectives
At the end of this course, you should be able to learn about the:
Knowledge of various essential elements of AYUSH Clinical Research and Hospital Management
Skills required to start your career in AYUSH Clinical Research and Hospital Management
Global guidelines and standards governing AYUSH clinical research
Hands on training and assessment through exam
Roles and responsibilities of clinical research and Hospital Management
personnel

Almost all the topics were new to me.  Very helpful if you are looking to explore opportunities in research. Dr Gowri Rangasamy
An excellent course for Ayurveda professional. Dr Ashok Patel
Great course. Thank you for providing me an extension to complete the course. Dr Aarthi Bharath Kumar
Very informative. Topics are covered in details. Uma Shankar
Is it the entire course fee?
Yes, the fee mentioned above is the entire course fee and there is no additional fee attached to this course. The fee covers the cost of course modules, exam, and certification of completion.
Do I have to take the course on specific timings?
There is no need to take the course module on particular timings. The course is self-paced and you can take the modules anytime.
Can I complete the course early also?
Yes, you can. In order to do so, you have to attempt and submit the online exam for evaluation.
I am a very busy with my professional work/ studies. What if I don't complete the course on time?
In this case, you can extend the timelines to complete the course. You can do so by dropping a request email in advance with your registered email id at info@physislearningacademy.com
What is the difference between Online and Distance learning?
In online mode of learning, you will get login access to read the course modules. You can learn anytime and from any device. In distance mode of learning, you will receive a printed/ hard copy of course material at your corresponding address via post. So, you can choose any mode of learning as per your convenience.
How can I enroll and pay the fee?